P. O. Box 156
Roslindale, MA 02131

E-mail:
info@ChangeWorksConsulting.org






About CWC





About CWC
Who We Are

ChangeWorks Consulting specializes in workplace and community diversity, cultural competency, organizational change, leadership development, conflict resolution, and social justice education. We provide services to businesses, educational institutions, health care and human service agencies, and community groups. Our goal is to work together with our clients to create safe, equitable, and productive relationships, workplaces, and communities through the exploration of the impacts of race, ethnicity, culture, gender, class, age, sexual orientation, physical abilities, and other aspects of diversity on our lives.

Dynamic and inspiring, effective and practical, ChangeWorks helps people embrace the gifts and challenges of a multicultural world. With skill and understanding, ChangeWorks builds bridges while working to dismantle social injustices that deny us all access to the best humanity has to offer.

ChangeWorks Consulting is certified as a Woman Owned Business Enterprise (WBE) and Disadvantaged Business Enterprise (DBE) by the Massachusetts Office of Supplier Diversity (formerly the State Office of Minority and Women Owned Business Assistance - SOMWBA).

Our Philosophy

Our philosophy is rooted in the belief that human diversity is a positive and natural phenomenon to be acknowledged, celebrated, and respected. At the same time, we believe that valuing diversity is not sufficient to address the continuing inequalities and exclusion in the United States and abroad. Therefore, our approach includes an analysis of the role of power in interpersonal relationships and institutional systems. By addressing these two key elements together - valuing differences and challenging "isms" (such as racism, sexism, heterosexism, etc.)- we offer a comprehensive perspective that guides effective personal, organizational, and societal change.

We often use the term "Inclusion and Diversity" (I&D) in our work. While diversity refers to the representation of the wide variety of backgrounds, cultures, talents, and skills that people possess, inclusion refers to what happens to people once they are in an organization, community, institution, or society. True inclusion requires the full representation, participation, value, and empowerment of all kinds of people at all levels and in all aspects of societal and organizational life, and commitment to challenging all forms of oppression. Far too often, organizations strive to achieve diversity, but fall short of full inclusion. Both are essential in effective change efforts.

Our Framework

The work of inclusion and diversity spans a wide range of interventions, from enhancing workplace/community climate to challenging organizational exclusion and systemic oppression. ChangeWorks targets our organizational/community change efforts at four levels: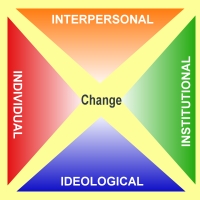 ChangeWorks believes it is essential to address all four levels to create effective system change. Interventions focused solely at the individual and interpersonal levels may improve group communication and comfort, but will not impact the structures and beliefs systems that reinforce exclusion. Likewise, addressing institutional and ideological levels may create shifts in patterns of access and challenge imbedded assumptions, yet still not significantly impact people's personal involvement and commitment to change.

Our framework recognizes that exclusion, bias, and oppression can be intentional as well as unintentional, conscious as well as unconscious. Our approach is multidimensional and addresses the behavioral (actions), cognitive (thinking), and affective (feeling) realms of change.

• 1. Individual Change (personal attitudes and
behaviors)

• 2. Interpersonal Change (relationships and
interactions between and among groups)

• 3. Institutional Change - (practices, structures,
and systems)

• 4. Ideological Change - (beliefs, norms, values,
and traditions)